Is cross-selling part of your strategic business plan?  If not, it should be. Cross-selling is an essential strategy to enhance brand loyalty, increase revenues, and maximize the value of your client relationships.
Cross-selling is based on bringing value to your clients in ways they may not have expected when they hired you. Your best-practice cross-sell strategy map begins by doing an A+ job on the initial client engagement, developing deep relationships, and understanding their concerns so you can deliver products, services, and resources that complement the original offering. Done properly, cross-selling increases your customer's reliance on you and decreases the likelihood of switching to a competitor.
As a participant in a Beyond Insurance program recently said, "If you are not cross-selling, it means that you really don't know what keeps your clients up at night. You are leaving money on the table!"
The research of Beyond Insurance indicates that the vast majority of producers and account managers do not cross-sell effectively because they have not learned the art of discovery nor how to utilize a consultative and diagnostic sales process. As shown in the previous blog, according to the Beyond Insurance survey of 7,000 agents and brokers, only 27% state that they have a disciplined, strategic, results-oriented cross-selling system.
Your client will not be receptive to your cross-selling attempt unless you have developed the following four key components:
Credibility
Trust
Customer Intimacy and Loyalty
Knowledge and Know How

These four components are best evidenced by customer engagement and enthusiasm leading to retention, referrals, and cross-sell opportunities.
Cross-selling takes marginal effort as compared to the original purchase. If a buyer is pleased with the initial experience, subsequent sales are much easier. Having an effective cross-sell strategy gives you the ability to identify, track, and engage more with clients who are mostly like to become your long-term sources of enhanced profitability. According to a KPMG study, the most significant revenue drivers are: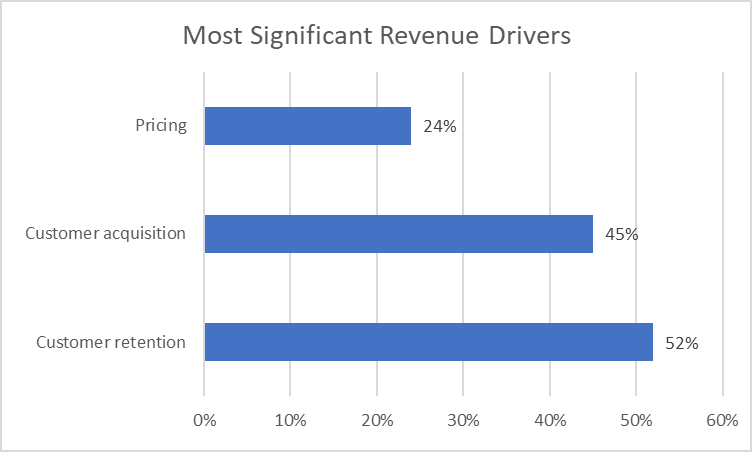 What does this data mean?  You need to earn a customer's loyalty continuously – and not by price or acquisition.
In other words, finding new customers is important, but keeping your existing clients satisfied is the secret ingredient to cross-selling success. To be effective at cross-selling, the research firm Deloitte found that you need to have a "unified view of your customer base as well as insights on customer behavior, preferences and lifestyles."  In other words, you need to know your clients from the inside out before trying to cross-sell them!
Cross-selling is all about being an expert about your clients and their industry and having intimate knowledge of their world so you can anticipate their needs and provide timely access to the solutions best for them.
Cross-selling opportunities occur when you have solutions to risks and business needs as well as access to products, services, and resources that fulfill your clients' needs. An obvious cross-sell area for P&C producers is employee benefits and financial services, but others could include business travel accident coverage as a complement to workers' comp; business interruption or contingent business interruption in addition to property coverage; and cyber liability if your customer is storing customer data.
If you are in personal lines, you must feel capable, confident, and credible to offer an array of insurance and risk management strategies to properly protect the family. This includes not only property and liability risks but extends to the perils of life, disability, and long-term care.
Make it your goal to learn every nuance and detail about your client – personally and professionally. When you have a comprehensive understanding of the business and your client's lifestyle interests, the faster your clients will perceive you as a trusted advisor and feel confident in your recommendations. It goes without saying that you must make certain that the products, services, and resources you suggest make sense for your client's situation, given their risk tolerance, family or business situation, and budget.
Warning:  Never seem more interested in delivering additional solutions until the current one performs well!  Be patient. Over time, clients will trust that you have their best interests in mind. This will create a path for future cross-selling opportunities.