The Net Promoter Score Has Never Been About the Score
I had some work done on my car recently at a dealership. It was costly, time-consuming, and the rep was neither empathetic nor personable. The experience was not satisfactory.  As a follow-up to my recent visit with the dealership, I was sent the following email: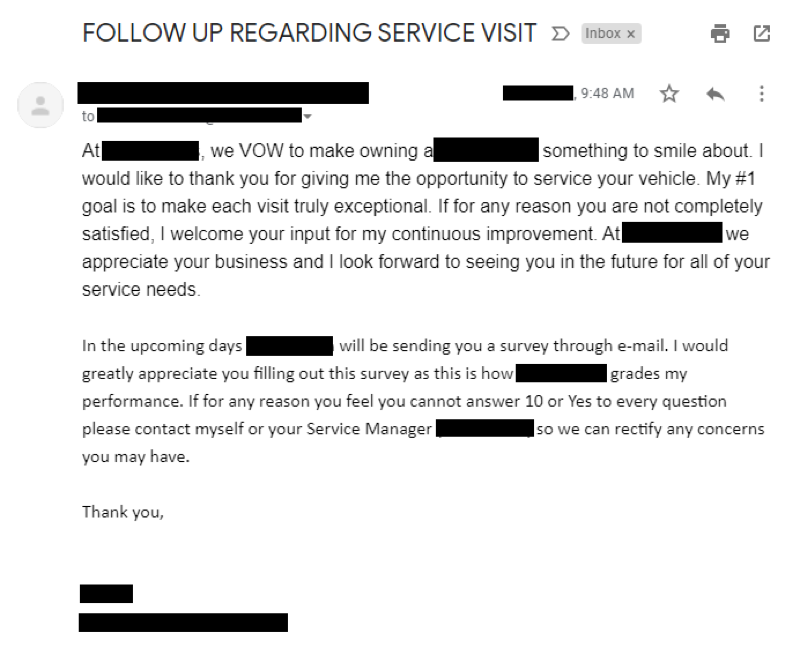 Of course, shortly after I received the iconic Net Promoter Score (NPS) question from the dealership itself: How likely would you recommend our dealership to a friend or colleague? 
Today, organizations in every industry appear to be focusing more than ever on the importance of the customer experience.  The challenge I see, however, is most businesses use tactics like the NPS system as a reactive measure.  Meaning, I engage with your services and solutions, receive a follow-up NPS email, and the response is cataloged away just so the organization can check the box, "Yes, we do care about our customer's experience."
Where most companies go wrong
The magic of the NPS system has never been about in the score itself.  Unfortunately, people, organizations, even entire industries, have poisoned the NPS process.  The email I received above is a picture-perfect example.  The dealership only asked me to fill out the survey if I'm willing to give them a top score.  Why?  Customer Satisfaction Index (CSI) scores play a key role in the dealership's ability to receive in-demand vehicles from an automaker.  The system has been gamed. 
High scores = "high performing franchise" = better inventory = better overall sales opportunities
The automakers hold dealerships hostage using the CSI system.  Because the focus of the NPS process is higher scores = better positioning, many dealerships cut corners by only asking customers to complete the survey if they are willing to provide as high of a score as possible.  In this scenario, the score means nothing, it's fictitious because it's not actually capturing the true essence of the experience. 
To take true advantage of the NPS system, organizations need to care less about the score and more about the habits and interactions that led to that score so that positive employee behavior can be reinforced and negative customer experiences can be reduced.  If you implement your own feedback survey, consider the following to capitalize on your responses:
Who within your organization has touched the clients who gave your team promoting scores?
What habits, processes, and skills do these people exhibit that make them stand out in the eyes of your customers?
How do you hire, onboard, train, and retrain current and future employees on those qualities that have exceeded customer's expectations?
One final consideration
Top performing agencies understand the value in a best practice sales process monitored and tracked using a structured sales meeting.  But when was the last time you've heard of an agency holding a customer experience meeting?  Like sales, delivering an exceptional customer experience will only happen once there is a keen focus on the strategies and tactics that both attract, as well as repel, current and future customers.  You may even take your surveying to the next level with a lost client survey.  With this, you will better understand the perceived barriers that are turning your customers away.
If you'd like to see how your organization stacks up against best practice agencies as it relates to benchmarking the customer experience, I would encourage you to take our Organic Growth Assessment.  It's a free benchmarking survey focusing on areas relating to an organization's ability to grow organically.
What organizations do you see today that either exceed or fall short of customer expectations?