Prospect Research Evaluation Program (PREP): Part 1
How does your agency implement a disciplined, strategic, energized system to fill your prospect pipeline with qualified opportunities?
Too many agencies use a hit-or-miss approach quarterbacked by the individual producer or telemarketer. It lacks creativity, differentiation, and impact. It is not a winning formula. This blog will give you a proven system to take your prospect research and qualification capabilities to the next level – the Prospect Research Evaluation Program (PREP).
Please grade your prospecting outcomes by responding to the following ten statements: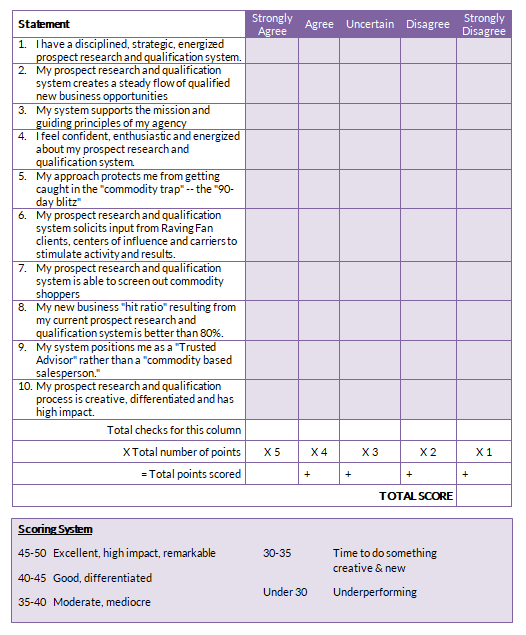 If you did not score to the level you wish, do not fret. You are about to learn how to connect your raving-fan network to help you with prospect research and qualification.
History and Development of PREP
In 1990, Scott Addis, CEO of Beyond Insurance, started an agency from scratch. No revenues. No clients. No prospects. Only a $50,000 credit line and a vision for success. Over the next 25 years, the firm's revenues grew to $22 million. And Scott's personal book was over $12 million of revenue. This article will reveal the business development system that catapulted The Addis Group (now part of McGriff Insurance Services) to one of the premier firms in the country.
Shortly after the firm's doors opened, it became apparent that there was a tug of war between three responsibilities – account management, business development, and agency operations. Scott was a gifted account manager, yet quickly realized that it was critical to building a prospecting pipeline system. It was essential that the system was simple, disciplined, strategic, and energized. And, most importantly, the program needed to hold him and his associates accountable.
Scott recognized that the firm was blessed with supportive centers of influence (i.e., accountants, attorneys, investment advisors, etc.), clients, and insurance carrier underwriters. Each person was interested and vested in the agency's success. This network of "raving fans" would become the focal point of The Addis Group's prospect pipeline system.